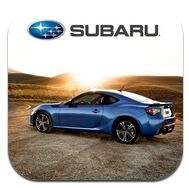 Download the BRZ Dynamic Brochure iPad app for free at http://itunes.apple.com/us/app/subaru-2013-brz-dynamic-brochure/id535653141?mt=8
With this dynamic brochure, you'll be able to delve into the way that this purified, driver-focused sports car connects you totally to the driving experience. Find out how Subaru engineers harnessed the inherent advantages of the SUBARU BOXER engine to redefine performance from the ground up.
Here's what you'll be able to experience with the 2013 BRZ dynamic brochure:
Detailed information on its performance engineering
Insight into its development
More iPad apps to come with Subaru!
This iPad app is for informational purposes only. The products featured on the application are available within the United States. All advertising is intended solely for the U.S. market. Redistribution or republication of any part of this site or content is prohibited, including such by framing or any other means without the express written consent of Subaru of America, Inc