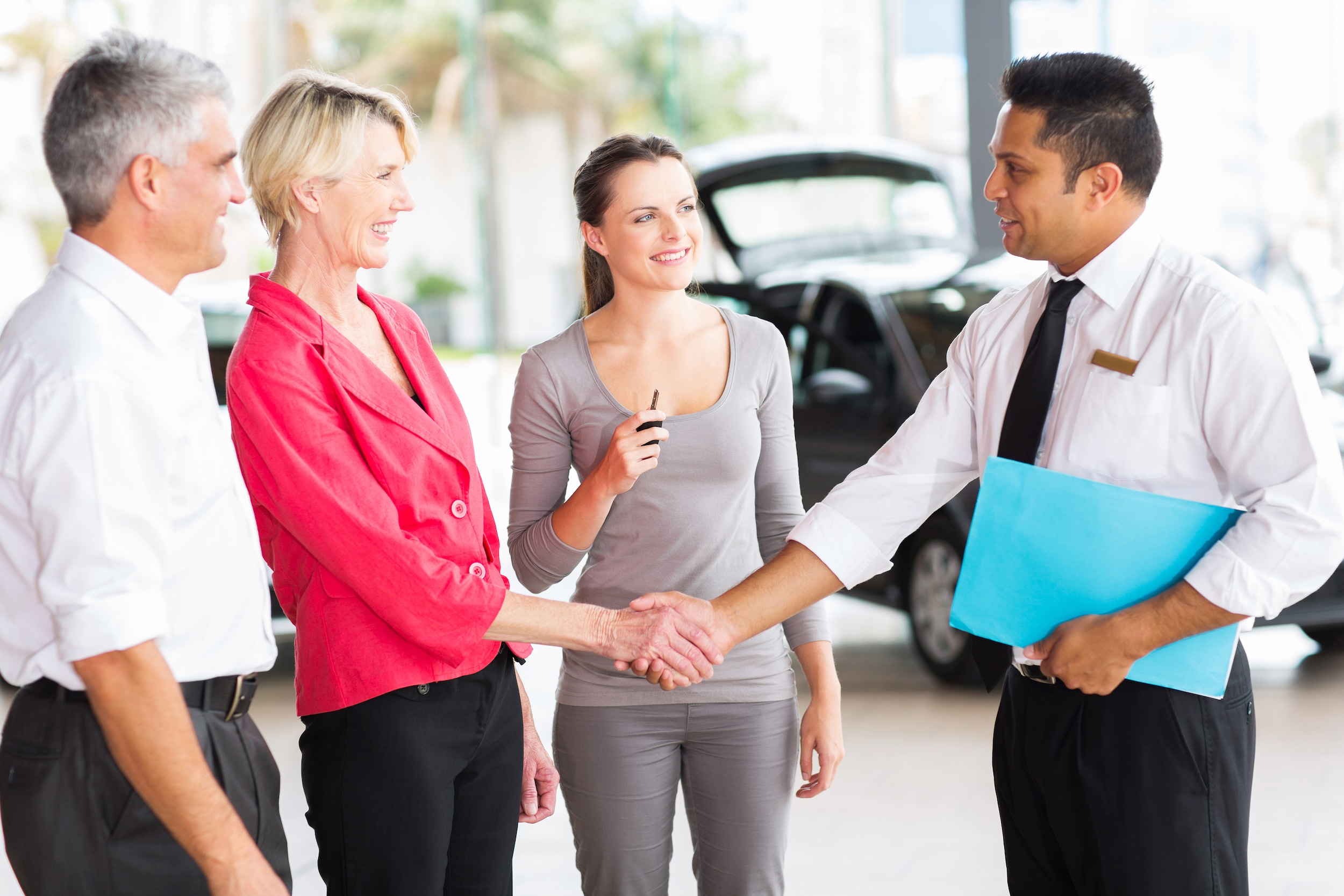 ____________________________________________________________________________________________
September 15, 2015

To Chris and Stacey Gillman -
 
On the eve of my 2015 Subaru Forester's first 6 month "physical", I am reminded that I had not taken these few moments to commend you on the amazing staff you employ at Subaru North!
 
I experienced a rather unique mechanical issue on a brand new Subaru Forester only weeks after purchasing it.  The event paralleled with my being notified of a serious health issue which would probably involve follow up and possible trips between The Woodlands and downtown Houston.  Your team at Subaru North responded with an expedient, pro-active resolve that, not only, reflected polished professionalism but unprecedented teamwork.  I was handled with compassion and genuine enthusiasm to please a Subaru customer.  They projected as a unified force without a single trace of contest among them.  The "players" involved specifically were:

Tim Jamerson, New Car Manager
Moe-Hmar-Lagroun, Sales Manager
Me-ly Cunningham, my Sales Consultant
Storm Pogue, Finance Manager
Kyle Munnings, Service Advisor
 
So it is with a sincere heart and the expertise of my newly retired 32 year business management career that  I thank you for making my experience at Subaru a truly memorable one!  If the Wharton School of Business ever wanted to document a study on the components of true professionalism, they need only to observe your most worthy team at Subaru North.  They were a blessing to me!  Bravo!  Well done!

Submitted via email

__________________________________________________________________________________________
Friday, June 19, 2015 7:05 AM

To: GM Gillman Subaru North
Subject: Sale of Subaru Forester to Gillman Subaru North

In early June, I came to Gillman Subaru North to sell my car. I had recently been laid-off by BP and  because I'm not an American citizen, I was obliged to leave the country within ten days of my final day with the company. There was therefore some urgency with the sale of the car.

On my visit to Gillman Subaru North, I was met by the used car manager, Matt Jones . He was courteous and very helpful. He gave me an estimate for the purchase of my car and although it wasn't optimal from my point of view, I was in no position to argue, it was reasonable so I accepted it. I think Matt Jones was somewhat surprised that I didn't quibble his offer!!!!

Following my acceptance, Matt Jones was able to clear all the paperwork swiftly and efficiently and all was completed except for the payment which would have reached my mailbox after I'd left the USA.

He, together with Tim Jameson, managed to work out a way for me to sign the back of the check on the day it was issued and have it sent by Fedex to my bank on the late afternoon before I was due to leave the US.

Finally, as we had no transport, Matt Jones arranged for transport for my wife and me back to our apartment.

I would just like to sincerely thank both of your managers, especially Matt Jones, for making a potentially troublesome transaction, easy and pleasant.


Submitted via email

_____________________________________________________________________________
Thursday, May 14, 2015 8:56 AM
To: GM Gillman Subaru North
Subject: 2015 Legacy 2.5i Premium

We purchased a 2015 Legacy 2.5i Premium from Gillman Subaru North and found that dealing with Brenda Johnson was easy. She was able to locate the exact car with the equipment that we wanted at Subaru railhead in Dallas. The vehicle was delivered in about a week to the dealership and we added window tint and body side moldings. It's a great car and my wife loves it. Overall the purchase part was easy, although haggling about the trade-in was a nuisance and I thought unnecessary. We traded in an exceptionally clean 2000 Corolla with 45,000 miles on the odometer, and Gillman sold it the next day. I am sure the dealer was happy with that result, and we are happy with the Legacy. I would recommend this dealership to anyone looking for a Subaru.


Submitted via email
___________________________________________________________________________
November 3rd, 2014

To: GM Gillman Subaru North
Subject: Sales Rep Felicia Cooley

Mr. Yeong:

I would like to take this opportunity to let you how much we enjoyed purchasing our Subaru Forester through your Subaru Sales Rep., Felicia Cooley.  She was a joy during the whole process.  She has  a wonderful attitude, lots patience and a friendly smile. 
Truly, an asset to Gillman Subaru.

I worked for a major airline for 36.5 years, so I have a good feel how important it is to have a friendly individual representing  your company in her capacity.  Today, good, friendly and hard working individuals are almost non-existing, which is why service levels in most businesses has gone by the wayside.
 
Our association with Gillman has been a very good experience.  I had the new mirrors installed on 11-3-14 and the service level I received from your Service Department was also excellent.  You'r the type of company I enjoy doing business with, because I am confident if anything goes wrong with the  vehicle during the warranty period, I will not have to hassle anybody to get the problem corrected. 
 
Again, I enjoyed meeting you during the buying process and hopefully we will be able to do business in the future.
Submitted via email
____________________________________________________________________________
October 30th, 2014

Date: October 30, 2014
To: GM Gillman Subaru North
Subject:Gillman Subaru North

Good Morning Mr. Won.
 
I am happy to state I did purchase a new 2014 XVC Crosstrek last night.  My experience with Gillman Subaru North was terrific!   I also must tell you that my experience with your competitor on IH10 was not wonderful which prompted me to go elsewhere. It just so happened that I met a lady in the parking lot of the other dealership on a Sunday afternoon and she shared her experience  with them and she was not happy or satisfied with it.  She told me that she went to Gillman North and received a good offer and was treated with respect and fairness.  She said the Internet salesman was super.
 
During our chat, I told her that I made an appointment with them because I saw a vehicle I liked and wanted to discuss further and perhaps my dealing with them would produce a positive outcome.  She wished me luck. Needless to say it was a disturbing conversation and the sales manager's approached was unprofessional.  I won't go into all the details but please know that my daughter and I walked out of the dealership with our minds made up that we were not going to give our business to them.  The whole experience was unsettling.  I have purchased a new cars in the past and have always received honest information and no pressure to buy what I don't want.
 
The following day I called your dealership to speak with someone who could assist me and I was directed to Patrick Clausen.  Patrick was very friendly and said he could meet with me that day.  I made the appointment for 4pm.  When I arrived he greeted me and showed me to his office.  I explained about my unpleasant experience with your competitor and he was a very good listener.  He was honest and fair.  I told him exactly what I wanted to purchase and to make a fair offer in price and I would paid the full amount by way of a personal check.  He showed me the Crosstrek in the color I wanted and with the features I wanted.  It was perfect.  This was the SUV for me.  I told him that I could leave a deposit and come back the following day with a check and he said "Your word is good with me" and no deposit was necessary.  I could give him a call in the morning with a time I would be stopping by.  He even said he would hold my check until I told him the funds were in the bank.  Wow, who does these kind of deals?
 
Patrick was professional, respectful and transparent.  He made me a fair offer and I was sold.  He is an asset to your staff!  Please recognize his efforts and talents which I am sure you do.  He made the whole experience pleasant.  My daughter and I both will be sharing this vehicle and sometime next year I hope to pass this vehicle on to her and then purchase another Subaru from Gillman and want to work with Patrick again.
 
Thank you.
Submitted via email


__________________________________________________________________
October 3rd, 2014

Took my son's truck in for service and some other problems. Donnie in service took care of our case and saved us lots of money negotiating with the warranty company. Donnie always does a great job and is extremely professional as well as being the nicest guy to deal with. Thanks to Donnie I'll be coming back to your establishment again and again.

Regards
Submitted via website