The 2021 Subaru Love Promise Customer and Community Commitment Award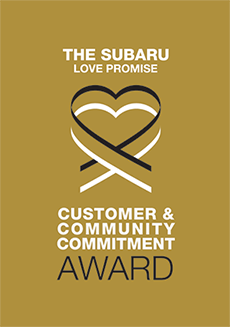 We've been nationally recognized for our dedication to our customers, our community, and the Subaru Love Promise.
We're honored to receive the 2021 Subaru Love Promise Customer and Community Commitment Award. This award nationally recognizes elite Subaru retailers who provide an exceptional customer experience at every interaction with Subaru. These retailers have also demonstrated an outstanding commitment to supporting passions and causes in their local communities in important areas such as the environment, community, health, education, and pets.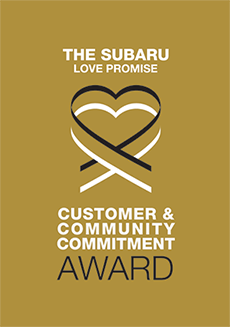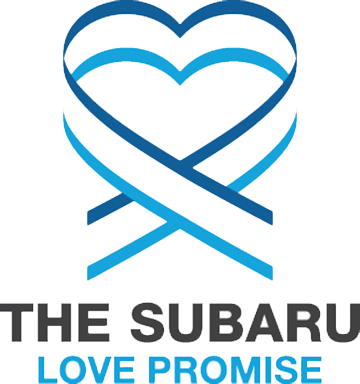 What is the Subaru Love Promise?
Subaru and our retailers believe in making the world a better place and the Subaru Love Promise is our vision of respecting all people. This is our commitment to show love and respect to our customers and to work to make a positive impact in the world.
How is Team Gillman Subaru North dedicated locally to the Love Promise?
Our Love Promise can be seen in various partnerships with local charities and non-profits. We're grateful for the opportunity, not only to be a part of our community, but to serve it as well.
Buffalo Bayou Partnership
Love Promise Stories from Team Gillman Subaru North
Subaru and Team Gillman Subaru North believe in making a positive impact on the communities in which we live and work. We uphold that belief through our Love Promise Community Commitment. Every month, we select inspiring stories from customers and partners from around our area who strive to support our collective commitment and feature them here
Blood Drive - Destiny R
Gillman Subaru North hosted a blood drive with the help of Commit For Life. With the help of employees, customers and community members, we were able to save lives with blood donations from the drive.
---
F.A.C.E.S. - Penelope N
Gillman Subaru North has extended their support to a new organization, F.A.C.E.S. a foundation that supports Autism Care, Education and Services. We are honored to partner with this outstanding organization to support our community members in need.
---
Lone Star Animal Wellness League - Penelope N
Gillman Subaru North was honored to donate to the Lone Star Animal Wellness League to support them in their mission to better the lives of animals and their owners in the communities.
---
2021 Microchipping Event - Penelope N
Gillman Subaru North and Lone Star Animal Wellness League have partnered once again to host a free community microchipping event. In attempt to make the community safer for our neighbors and their furry family members alike, the event offered free microchipping for cats and dogs .
---
3rd Annual Microchipping Event - Penelope N
September 12th, 2020, Gillman Subaru North hosted the 3rd Annual Microchipping Event with partners, Lone Star Animal Wellness League. Together, they were able to successfully provide microchips for 40 pets all while maintaining social distancing! Team Gillman looks forward to future events and a continued partnership with LSAWL in their mission to promote happy & healthy lives for the members of their community and their furry family members.
---
Lone Star Animal Welfare Donation - Nikki W
Gillman Subaru North generously donated over $42,000 in March to Lone Star Animal Welfare League as part of Subaru's Share the Love committment and the mission to support the community.
---
Customer Appreciation/ Memorial Day - Brandon L
We celebrated our Team Gillman employees and customers this past weekend with local, award winning food trucks, snow cones, and a great time!
---
Lone Star Animal Welfare League Receives Donation! - Nikki W
Since 2014, Subaru has continued to be an amazing partner of LSAWL!On May 11th, 2019, we were honored to again be awarded as the 2019 Share the Love event. Subaru raised $45,696 on behalf of LSAWL.Your generosity and compassion has helped so many animals throughout the years.Thank you for your continued support!
---
Free Microchipping! - Penelope N
On November 2, 2019, We partnered with Lonestar Animal Welfare League to offer free microchips in our service lounge to increase the likelihood of a lost pet to be returned to its family. We were able to have 46 dogs and cats chipped! A good day for giveaways and responsible pet care!
---
Walk to End Alzheimer's - Nikki W
On October 5, 2019, Gillman Subaru North and over 1,500 Houstonians walked to end Alzheimer's. As one of Walk to End Alzheimer's Elite event sponsors, Team Gillman's contribution went towards advancing the care, support and research efforts of the Alzheimer's Association. Team Gillman Subaru North not only donated several thousand, but also set up a dog station and provided a photo booth, treats, drinks, and face painting for the doggies and their families. It was such a great event for an amazing cause.
---
Team Gillman delivers blankets with LLS - Charley T
Brenda Johnson with Subaru and the Leukemia & Lymphoma Society delivered warm blankets, craft kits for kids, and care cards for cancer patients to the Oncology Consultants at Memorial Hermann in July! The staff at Oncology Consultants were thrilled to receive these generous gifts.
---
Subaru and NWF Love the Earth! - Shelby B
Our garden has been a part of our community since the Fall of 2014. It began as part of a research project with our gifted and talented program. Students researched the impact to the Monarch butterfly and decided we needed to convert our green space to a butterfly garden. Students planned out plants they wanted to incorporate and collected donations of soil, containers and seeds from parents and teachers. Since 2014, we have raised and released over 350 Monarch butterflies. Our whole school is involved in the releases and the caterpillars are kept in habitats that spend time in each of the elementary classes, so that students can observe the metamorphosis process. Classes spend time in the garden each week in the fall and spring searching for caterpillars to bring indoors. This past year we added a secondary garden space utilizing tires donated by a parent which nearly tripled the square footage of our garden. We began tagging butterflies in 2016 with Monarch Watch and we hope that some of our tags will be recovered.
---
LSAW Receives Donation - Laura M
Gillman Subaru North has partnered several years with the Lone Star Animal Welfare League for several years. Our goal is to promote not only better, healthier lives for the pets in our community but promote a better existence for the homeless animals who are in great need of our assistance and advocacy. I'm pleased to announce that through the Share the Love program, Gillman Subaru North raised $15,983.43 for the Lone Star Animal Welfare League. Accepting the check on behalf of the Lone Star Animal Welfare League is LAURA MCCONNELL, President and her husband Chuck McConnell along with Patrick York, (COO Gilman Automotive Group) and Yeong Won (GM Gillman Subaru North)
---
We so appreciate Gillman's support! - Kitty S
I am one of the volunteers with Lone Star Animal Welfare League in The Woodlands, TX. I have been with them for about 8 years, and I have fostered more than 30 labs, as well as writing their biographies for publication, assisting with vet office visits, and screening adoptive homes. Each dog we take into our program has come from less than advantageous circumstances, and usually costs us several times the adoption fee we later receive to get them healthy and whole again. Heartworm disease, skin infections, and orthopedic problems are just a few of the problems they present with, in addition to routine tests and vaccinations we provide. Without the support of sponsors such as Gillman's, we could help far fewer dogs find their happy ending with a good family. As you might imagine, each dog earns a special place in our hearts, and we all have adopted at least one of our fosters! As for my canine family, they ride in style in a 2010 Subaru Outback!
---
Gillman walks with thousands to end AIDS - Melody P
On Sunday, March 8, 2016, Gillman Subaru and over 10,000 Houstonians walked to end HIV/AIDS within our lifetime. Over thirty-eight corporate teams, including Gillman Subaru North and Gillman Subaru Houston filled Sam Houston park in Downtown Houston then were led by Mayor Sylvester Turner down Allen Parkway to the finish line. As one of AIDS Walk Houston's event sponsors, Gillman's contribution gave eleven local AIDS Service Organizations a platform to raise awareness and funds to help end the disease. Donations will provide housing, medical access, mental health care, food, education and testing in Houston. AIDS Foundation Houston, Inc. and all of AIDS Walk Houston's benefiting agencies appreciate the support of Gillman's passionate employees!
---
Gillman Supports Buffalo Bayou Regatta - Trudi S
A record number of participants over 800 in 2016 paddled in the Buffalo Bayou Partnership Regatta, presented by Gillman Subaru. This spring event has been a Houston tradition for 44 years and has grown to become Texas' largest canoe and kayak race. Special thanks to Gillman Subaru for being our presenting sponsor for three years in a row! This year was exceptional with Gillman providing numerous volunteers for the Subaru launch crew at the start of the race, as well as 22 employees and family members participating in the race itself. At the finish line festivities, paddlers were greeted with live zydeco music, a rock climbing wall and a relaxing massage after paddling the 15-mile stretch of Buffalo Bayou. With Gillman Subaru's support, Buffalo Bayou Partnership continues its mission to revitalize, maintain and activate Buffalo Bayou Houston's most significant natural resource!
---
A Doggone Good Deed - Gillman S
Gillman Subaru in North Houston was the Title Sponsor for the annual Mutts and Putts Golf Tournament. The event, benefiting the Lone Star Animal Welfare League, was part of their Doggie Dash fund-raising effort. The League's work in the Houston area has sent many dogs to loving homes. In a real Share the Love moment, Gillman Subaru joined with Subaru of America in presenting a more than $14,000 donation to the Lone Star League. Golfers, other sponsors, the support staff and guests were expressive in their thanks to both Subaru of America and Gillman Subaru for this major contribution to their efforts. It was a very special Share the Love event that will have a very positive long-term impact on the Houston community.
---
SPCA Pick Your Pet - Kelly G
Gillman Subaru with General Managers, Eleil Ramirez and Yeong Won, supported the first annual Pick Your Pet Houston city-wide pet adoption at KTRK ABC13 supporting the Houston SPCA on Wednesday, 3/23/16. There is a need to help animals find their forever homes. March 23rd was also National Puppy Day, so what better day to hold the drive to find puppies a new home. Eleil and Yeong were at KTRK ABC 13 during the drive encouraging viewers to come out and adopt a pet. Both of the puppies they were holding on air were adopted as a direct result of their support. The black puppy Yeong is holding in the photo went to a family with a little girl who has Autism. She loved the puppy so much. It was touching to see the love of a puppy and a little girl. The tan puppy Eliel is holding (sister to the black one) went to a Houston Fire Fighter. He has two kids and plans to take her to the fire station as she grows to be a large dog. He saw her on TV and headed over to adopt her. When he arrived another man was holding her who also saw her on TV and headed over. The fire fighter waited patiently and as soon as she was free, he adopted her immediately. The two men exchanged information. The first man plans to watch her grow on Facebook and visit the puppy at the Fire station. In one day, 25 animals found homes! The SPCA was thrilled! Typically on a weekend they may adopt out four animals. This was made possible due to the support Gillman Subaru provided. Thank you!
---
Partner With Lone Star Animal Welfare League For a Customer Appreciation Event - Laura M
This is a customer appreciation event we hosted in partnership with the Lone Star Animal Welfare League. It involves pet adoption, free pet grooming, free food and activities for dogs and their owners.
---